Fannie Lou Hamer was a community organizer, civil rights activist, feminist, and national leader.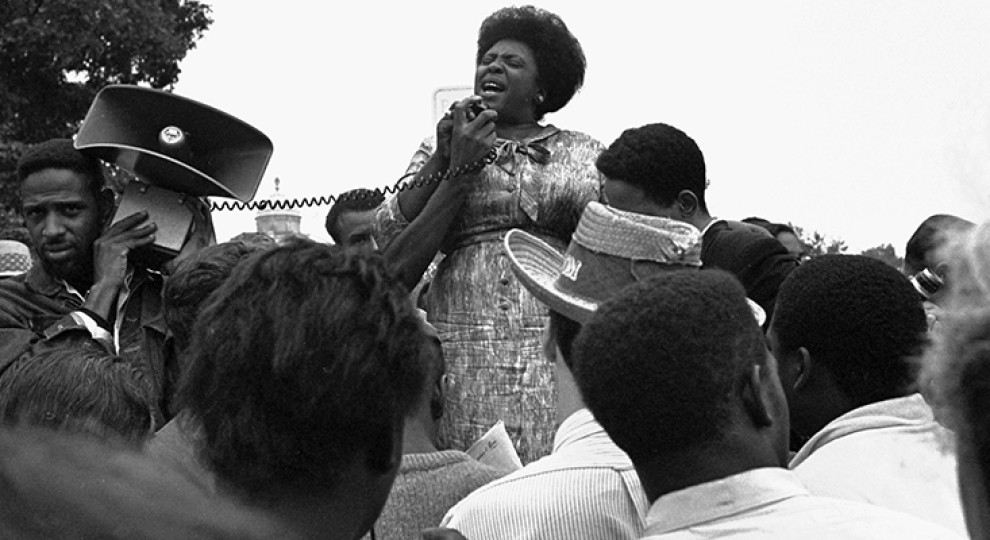 She was born in Mississsippi in 1917 to a family of 20 children. Fannie Lou and her family regularly attended church. Her faith was a source of strength throughout her life, and studying the bible helped her to critically analyze the world around her.
Fannie Lou's parents were sharecroppers. From age 6 until adulthood, Fannie Lou picked cotton with her family – for extremely low wages – supporting a large industry with little regard for the largely Black workforce that enabled it to succeed. At that time the Mississippi delta was the cotton producing capital of the world.
In the 1950's Fannie Lou started to become familiar with the growing civil rights and voting rights movement. In 1962 she became active with the Student Nonviolent Coordinating Committee (SNCC), focusing on voter registration.
Her activism resulted in her eviction from her home, getting thrown in jail, and being severely beaten – for registering Black people to vote. In 1964, she worked alongside Martin Luther King to unseat Mississippi's white only delegation to the Democratic National Committee. But undermining white power was so threatening, that President Johnson himself tried to dominate the television airwaves during Fannie Lou Hamer's testimony to the DNC to prevent her from gaining television coverage.
During her politically active years, Fannie Lou Hamer was the co-founder and vice-chair of the Freedom Democratic Party, which she represented at the 1964 Democratic National Convention, she organized Mississippi's Freedom Summer along with the Student Nonviolent Coordinating Committee (SNCC), and she was a co-founder of the National Women's Political Caucus, which recruited, trained, and supported women of all races who wish to seek election to government office.
She died in 1977 from complications of breast cancer and hypertension. Fannie Lou was buried in her hometown of Ruleville, Mississippi.
Why a Fannie Lou Hamer Garden in Boston?
Fannie Lou Hamer did not have a direct Boston or Massachusetts connection as far as we can tell. However, our state does have a link to the equal rights goals that she helped define and fought for. Martin Luther King, Coretta Scott King, and Malcolm X all lived for a time in Boston. John F. Kennedy's presidential administration drafted legislation that would pass after his assassination to make segregation of public spaces and schools illegal, and granting voter protections. As this WGBH piece asks, "Shouldn't students in JFK's Massachusetts know Fannie Lou Hamer's name?"
Someone in our garden's past chose her name for our garden, not long after her untimely death. They understood the huge importance of Fannie Lou Hamer's contributions – contributions that many of us are unaware of today.
Fannie Lou and her family spent hours picking cotton in unrelenting heat to get by. We garden to save money on healthy food, but we also get to garden for fun, for social connection, and to feel connected to the earth.
Our garden's name helps to educate us about Fannie Lou Hamer's leadership and be grateful for her dogged work. It also reminds us of how much work we all still have to do to achieve racial justice in our city, our state, and our country.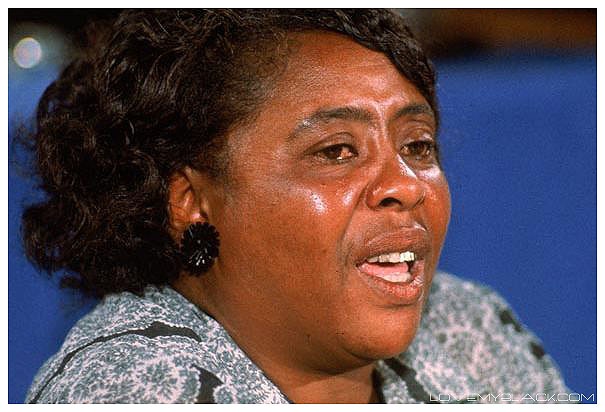 ---
In the words of Fannie Lou Hamer:
If I am truly free, who can tell me how much of my freedom I can have today?
I feel sorry for anybody that could let hate wrap them up.
I am sick and tired of being sick and tired.
You can pray until you faint, but unless you get up and try to do something, God is not going to put it in your lap.
Sometimes it seem like to tell the truth today is to run the risk of being killed. But if I fall, I'll fall five feet four inches forward in the fight for freedom. I'm not backing off.
When I liberate myself, I liberate others. If you don't speak out ain't nobody going to speak out for you.
This white man who is saying "it takes time." For three hundred and more years they have had "time," and now it is time for them to listen.
Christianity is being concerned about [others], not building a million-dollar church while people are starving right around the corner. Christ was a revolutionary person, out there where it was happening. That's what God is all about, and that's where I get my strength.
Never to forget where we came from and always praise the bridges that carried us over.
Whether you have a Ph.D., or no D, we're in this bag together. And whether you're from Morehouse or Nohouse, we're still in this bag together. Not to fight to try to liberate ourselves from the men - this is another trick to get us fighting among ourselves - but to work together with the black man, then we will have a better chance to just act as human beings, and to be treated as human beings in our sick society.
We have to build our own power... The question for black people is not, when is the white man going to give us our rights, or when is he going to give us good education for our children, or when is he going to give us jobs-if the white man gives you anything-just remember when he gets ready he will take it right back. We have to take for ourselves.
The only thing I really feel is necessary is that the black people, not only in Mississippi, will have to actually upset this applecart. What I mean by that is, so many things are under the cover that will have to be swept out and shown to this whole world, not just to America. This thing they say of "the land of the free and the home of the brave" is all on paper. It doesn't really mean anything to us. The only way we can make this thing a reality in America is to do all we can to destroy this system and bring this out to the light that has been under the cover all these years.